Fishing is a hobby and sport that can be enjoyed year-round, and while daylight hours in the winter are often very short, this usually doesn't stop anglers from staying into the night. So, this is a question to the mind, can you ice fish at night?
You can ice fish at night (some anglers even prefer it). Ice fishing has a few advantages at night, such as certain fishes like the walleye are nocturnal, so the best chance of catching them is at night. There are also a lot fewer anglers fishing during the hours of sunrise to sunset, increasing your chances of a catch.
In this article, we will discuss whether you can ice fish at night, and we have everything you need to know about ice fishing at night.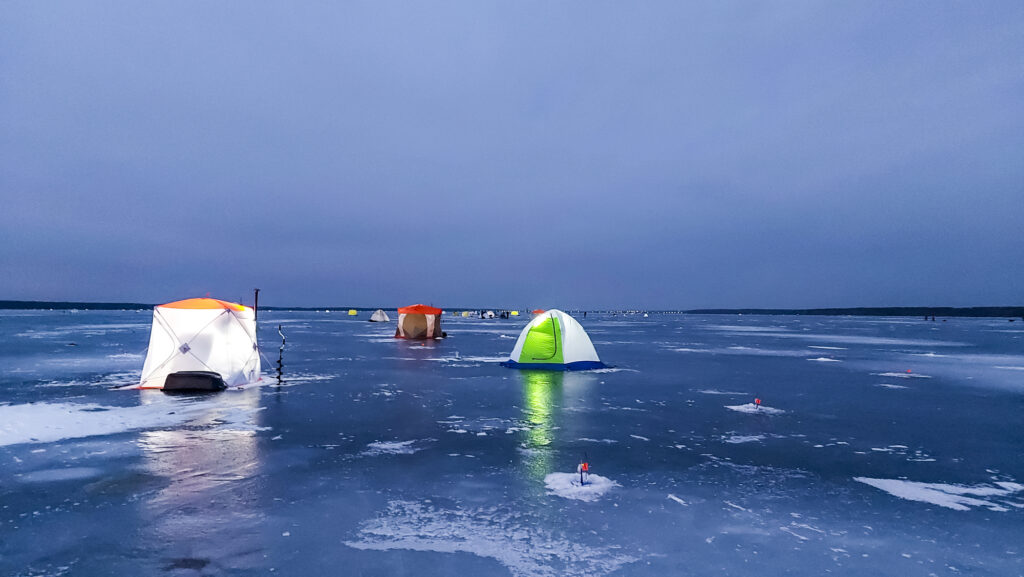 Can You Ice Fish at Night?
While daylight fishing is the preferred time to ice fish for most ice anglers, nighttime is also becoming a popular option. If you choose to ice fish at night, it can be a safe and fun experience, so long as you're prepared to follow safety protocols and guidelines.
There are multiple reasons why some anglers are now turning to the hours of sunset to sunrise to ice fish. Whether it be the peace and quiet of the area, or the ability to catch a nocturnal fish, it has become increasingly popular in recent years.
Reasons to Try Night Ice Fishing
Fewer anglers: If you're someone who loves a quiet, peaceful fishing trip away, ice fishing may be right for you. Most ice anglers are active during the daytime, so if you choose to fish at night, you likely won't have to hover over a creek channel or hot brush pile with five or six other anglers.
Fish activity at night: Fish such as the walleye, catfish, and burbot feed actively at night. So if you choose to fish at night, you have a much greater chance of catching one of these fish. You can even try out new techniques, such as using special lights that are dropped into the water to attract fish bait which attracts the larger game fish.
Try a new experience: If you have never tried night fishing, it seems like you may be missing out. Getting your station set up with torches, headlamps, and a nice cup of tea isn't for everyone, but if you're someone who enjoys trying new things, night fishing is something you should try. We wrote the recent article, Is Ice Fishing Fun? [What's All the Fuss About?], to help fishermen and those thinking about trying ice fishing.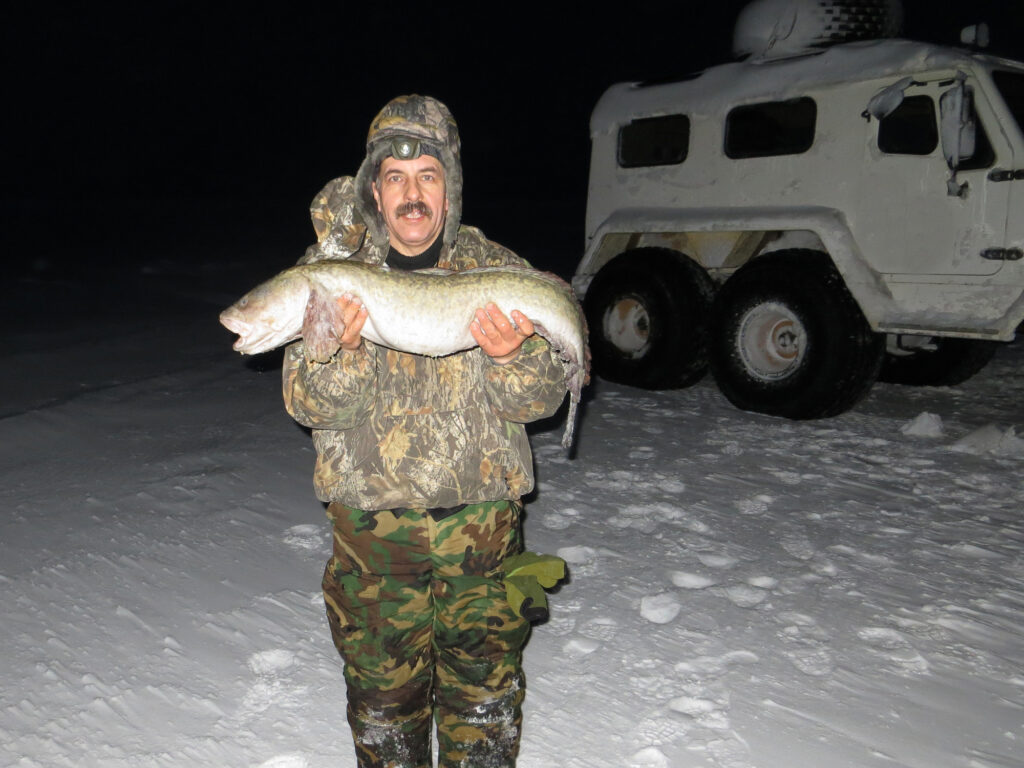 Ice Fishing At Night Tips
If you decide that you wish to give ice fishing at night a try, you should remember that it can be a dangerous thing unless you come prepared. Here are seven-night fishing tips to maximize your experience and keep you safe.
Pay Attention to Safety
Ice fishing can be dangerous on a good day, so always be wary of the ice thickness, bring a good amount of food and water, and do everything you would in the daytime. If you try ice fishing at night, never fish alone. If anything goes wrong, hypothermia is just around the corner. Is Ice Fishing Dangerous? [Stay Safe this Season] is an article we wrote to help anglers stay safe while ice fishing.
Change Depths
During the nighttime, semi-nocturnal fish swim much higher in the water. So if you aren't having much luck in your chosen location, yet your bait seems right, you can try to position your bait a little higher. Check out What Depth Should I Ice Fish for Walleye? which talks about how to change depths while fishing for walleye, depending upon the time of year and other factors.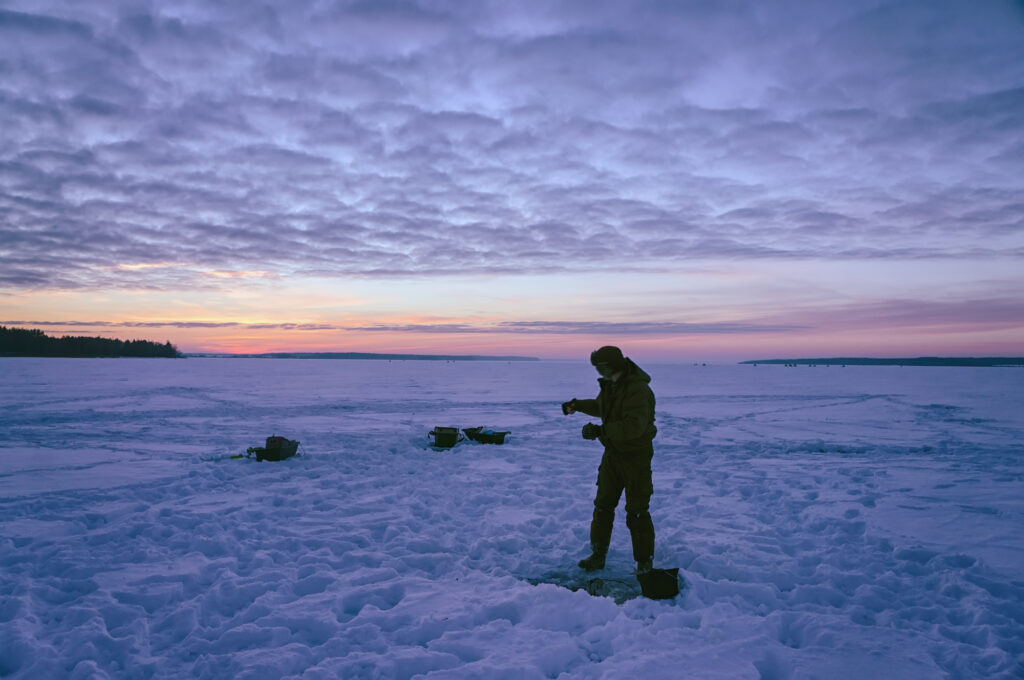 Drill Multiple Holes
As walleyes and crappies are an active species, they tend to do a lot of swimming at night. One way to increase your chances of catching is to drill multiple holes in the ice. You should drill around 10-15 holes in a zig-zag pattern, which will significantly increase your chance of a snag.
Use Suitable Line
Anyone who has fished in icy and normal conditions will know that fishing lines are not all the same. Regular lines are visible under ice, and while you can use them, you will soon find that they don't work as well as ice fishing lines. If you're struggling to get a bite with your line, it may be because the fish can see something is wrong. For more info, read our article: What Ice Fishing Line is the Best? Choosing the Right Line.
Take Multiple Lures
As ice fishing can be demanding, you will want to have a variety of lures. If the fish aren't biting, change the lure and try again. You can also add small fresh bait such as worms or a piece of minnow onto your hooks. Natural bait works well as it will add a smell the fish won't be able to resist.
Eliminate Outside Light
Anglers will argue that a fish like a pike is attracted to bright nights; darkness is always a better option, especially when trying to catch walleyes and crappies. One way to reduce light pollution is using a red light headlamp. If you are uncomfortable in red light and decide you need more light, a green light is a good option.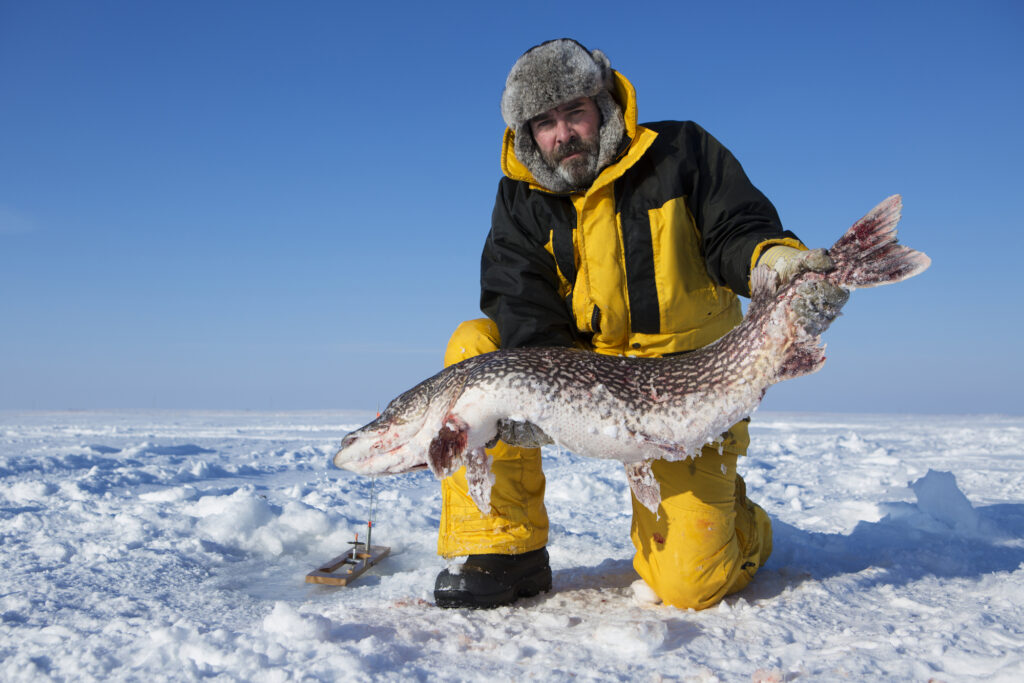 Give Yourself a Little Comfort
When fishing in the early morning hours, it can be freezing and windy. Investing in a small tent to protect yourself from the elements has multiple benefits, such as keeping you and your ice fishing hole from freezing. Remember to mark the tent with reflective material to let others see where you are.
On top of this, a small chair and comfy clothes are a great way to help you feel a little more comfortable. This can be accompanied by a pot of coffee or an energy drink, as after midnight, you may start to feel sluggish and tired.
One of the main factors of staying warm is proper ice fishing boots. Warm feet throughout the night makes a huge difference in your comfort. The Best Ice Fishing Boots lists the top 5 ice fishing boots that have proven successful for ice fishermen.
What Kind Of Fish Can You Catch At Night?
The walleye is one of the most common fish ice anglers will snag during the hours of sundown to sunrise. These fish are semi-nocturnal and prefer to feed at night, so if you have the patience, you may find it easy to catch one.
Other fishes you will catch are a lot of crapples at night as they become more active in the winter months. On top of this, you may come across smelt catfish, rainbow trout, and pike under certain conditions.