Some people come to Saginaw Bay for the beauty, others for the fishing. But in the winter, when the bay is covered in a thick layer of ice, it's all about the walleye. Perch, pike, and whitefish may get most of the attention during the open-water season, but when the bay freezes over, it's all about targeting those elusive walleyes.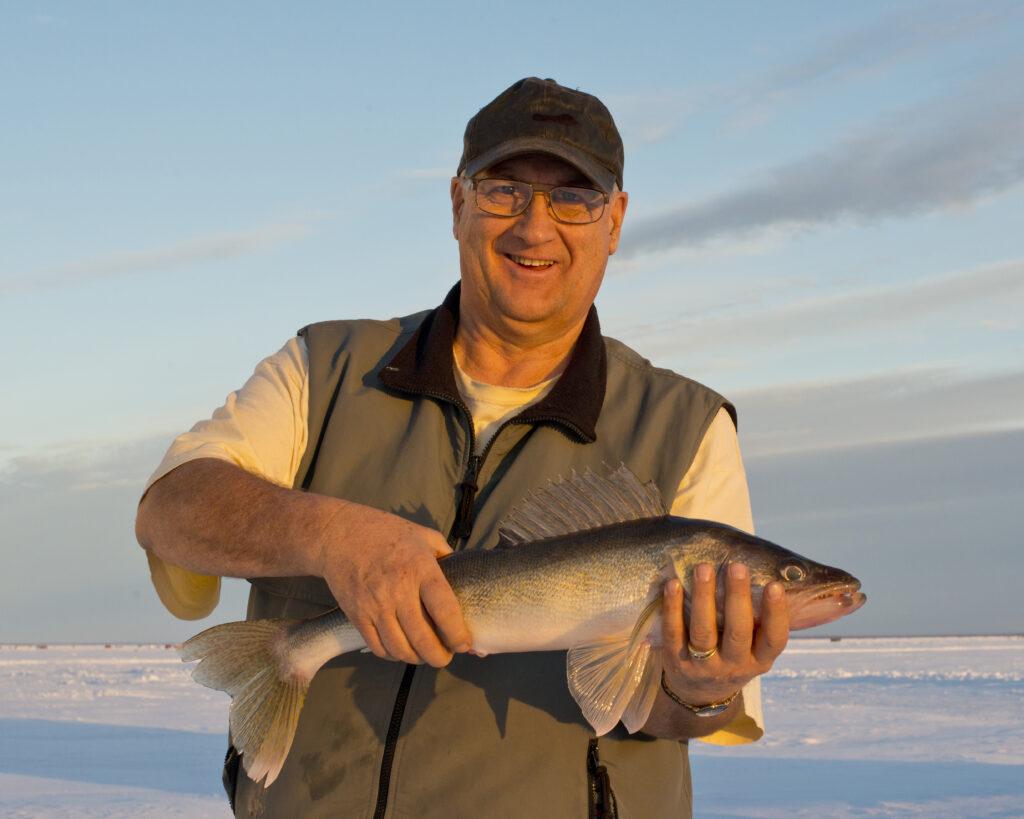 Access to the prime walleye grounds is best had with a Snowmobile or ATV, as most areas will have frozen over by early December. For those without transportation, many charter services will take anglers out onto the ice. Once on the bay, anglers drill holes through the ice and often set up tip-ups baited with live minnows, worms, or lures.
The key to success is patience. Walleye can be finicky biters, so it often takes some time before one finds themselves hooked up. But when that fish finally does hit, it's all worth it. There's nothing quite like hauling in a hard-fighting walleye through a hole in the ice. If you're looking for a unique winter experience, consider traveling to Saginaw Bay to try some walleye ice fishing.
What Equipment Do You Need for Ice Fishing for Walleye in Saginaw Bay?
When venturing out onto the hard water of Saginaw Bay in search of walleye, a certain amount of specialized gear is necessary. First and foremost, an ice auger is required to make a hole large enough to fish through. If going with a guide, then they will supply the auger.
Also, a good quality set of baitcasting reels spooled with the proper fishing line is a must for any fisherman, regardless of the season. While ice fishing, you have three main options for the line: monofilament, fluorocarbon, and braided line. They all have their advantages, which we outline in our article: What Ice Fishing Line is the Best? Choosing the Right Line.
Pre-tied jigs or tip-ups baited with minnows or worms are common, while some opt for lures. And the final piece of essential equipment is a stiff-bristled brush to clear snow and slush from the holes drilled in the ice. With all of this gear in tow, anglers will be set to enjoy a successful day of ice fishing for walleye in Saginaw Bay.
The Best time of Year to Go Ice Fishing for Walleye in Saginaw Bay
Ice fishing for walleye in Saginaw Bay is best done during winter when the water is cold, and the walleye are more active. The best time of year to go ice fishing for walleye in Saginaw Bay is from December through February. During this time, the water is typically at its coldest, and the walleye are more likely to bite.
However, it is important to be aware that conditions can vary yearly, so it is always a good idea to check with local experts before heading out onto the ice. With a little planning and preparation, you can have a successful and enjoyable ice fishing trip for walleye in Saginaw Bay.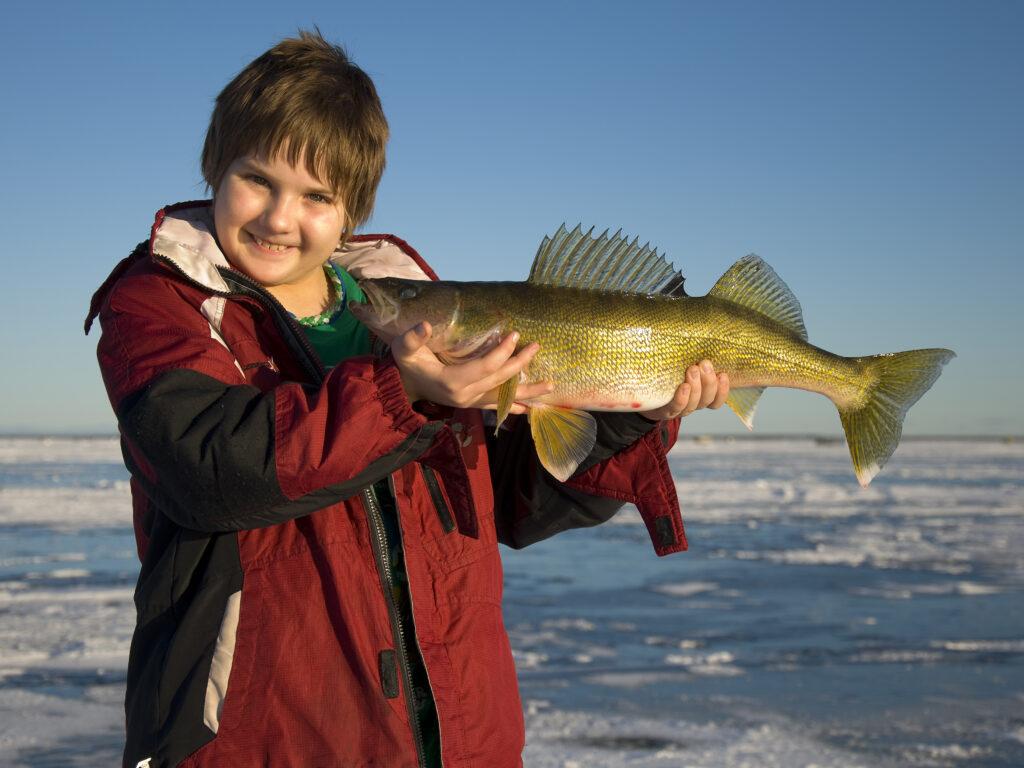 How to Catch Walleye Through the Ice in Saginaw Bay
Catching walleye through the ice in Saginaw Bay can be a great winter activity. Here are some tips to help you get started:
First, find a good location. Look for areas with deep water and lots of structure, like sunken islands or reefs. These areas will hold more fish. What Depth Should I Ice Fish for Walleye? goes into detail about where walleye live during the winter months.
Next, drill your holes. Start by drilling a large hole for access, then drill smaller holes around the perimeter of the area you're fishing.
Once your holes are drilled, it's time to set up your equipment. You'll need an ice auger, an ice fishing rod, reel, and bait.
Now you're ready to start fishing! Lower your bait down the hole until you reach the bottom. Then, wait patiently for a bite. Once you feel a bite, give the fish a strike. Once the fish is through the hole, carefully reel it in and enjoy your catch! Remember, because you are fishing through a hole in the ice, the fishing line may break if rubbing too much on the jagged edges of the raw ice.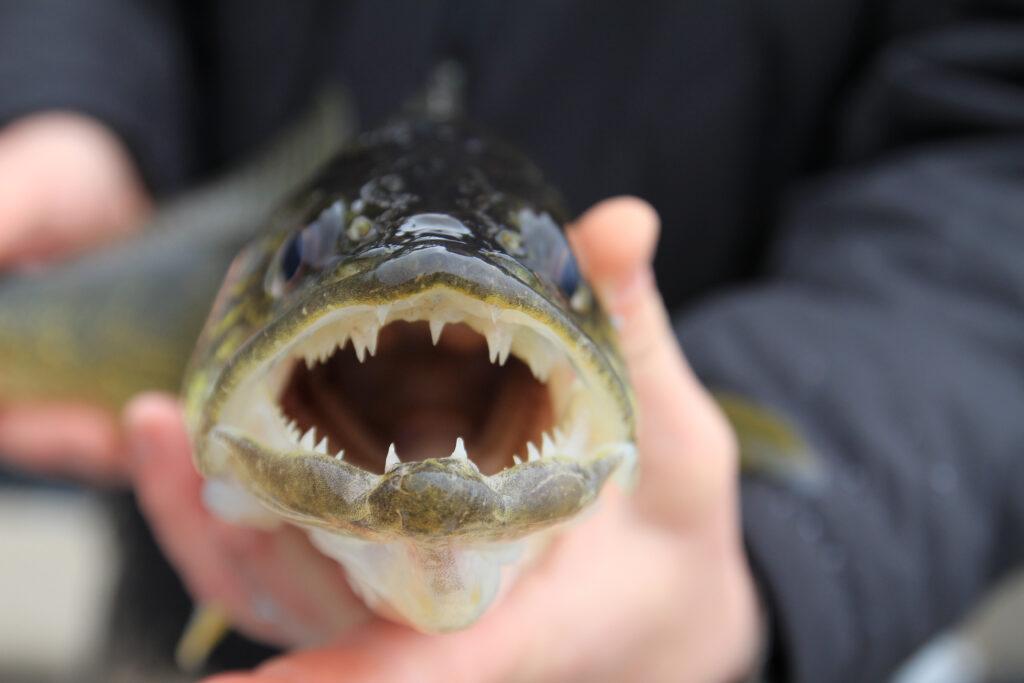 There are a few baits and lures that seem to work best when it comes to ice fishing for walleye in Saginaw Bay. First of all, live minnows are always a good option, as walleye are naturally attracted to them. Another good bait is a jigging Rapala, which can be effective in deep and shallow water.
If you're fishing in deep water, a spoon lure is also a good choice. As for colors, white and chartreuse seem to work well in clear water, while brighter colors like blue and orange are more effective in stained or murky water. ultimately, it's important to experiment with different baits and lures until you find what works best in your particular situation. Our article, What is the Best Bait for Ice Fishing Walleye? goes into greater detail about the best baits for walleye.
The Best Saginaw Bay Walleye Ice Fishing Guides
Captain Ken Rice has been operating Legen Killer Charters for years and is an expert when it comes to ice fishing for walleye on Saginaw Bay. He is a USGC master captain with over 20 years of fishing experience and is a full-time walleye guide and tournament fisherman.
When asked what are the best hotspots on the Saginaw Bay he replied, "The Crib, The Cigar, The Slop, The Sparkplug, Buoy #1." I told him I was surprised he spilled the beans on all the secret spots. Ken laughed and said that most local stores tell anyone who asks anyways, which is a testament to the area's general friendliness and true fisherman spirit.
Captain Ken said that the #1 time to fish the Saginaw for walleye is February, but it can be hit or miss like most fishing. Having an experienced guide can make all the difference. From knowing the hotspots to providing the gear, Legend Killer Charters is a great option for ice fishing the Saginaw. If you are looking for a quality guide for ice fishing walleye on the Saginaw, contact Ken through his website, Legend Killer Charters.
---
We were fortunate enough to speak with Brian Seiferlein who owns and operates The Walleye King in Michigan, right off Saginaw Bay.
When asked where the hotspots are located for walleye on Saginaw Bay, Brian responded, "the west side of Saginaw Bay from Linwood down to the Mouth of the Saginaw River, which is in Bay City." Brian has been fishing these areas for over 30 years and knows all the areas where walleye are in the winter.
To get onto the ice, Brian has quads, a snow machine, and a 6-person Polaris Ranger (a video highlighting their transportation in action is on their website's home page). These vehicles make for an easy trip onto the ice and a more productive day of fishing.
Couple the proper gear with decades of experience ice fishing for Walleye, makes the Walleye King Ice Fishing outfit a great option for those looking to fish the Saginaw. For more information, visit the Walleye King website.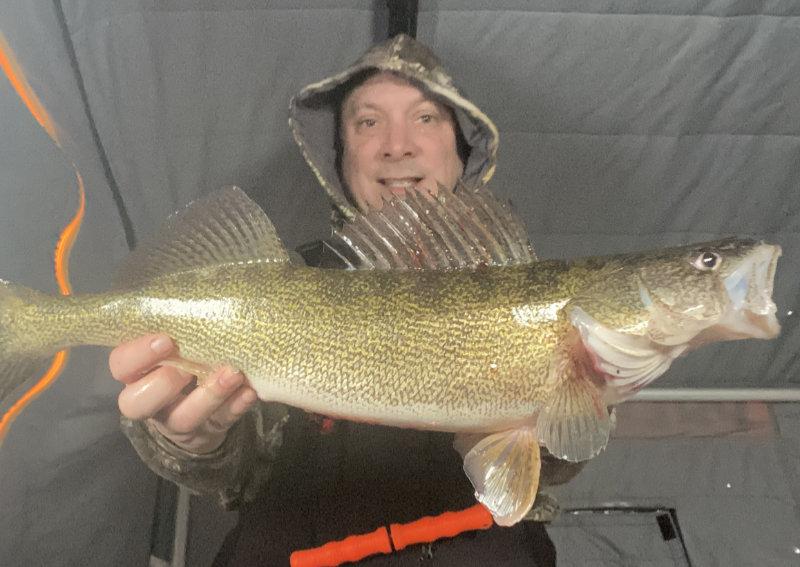 Image Credit: The Walleye King – Ice Fishing Guide