Title
Our Choice
Cimkiz Crampons Ice Cleats Traction Snow Grips
Unigear Traction Cleats Ice Snow Grips
Lightweight Choice
Yaktrax Walk Traction Cleats
Energetic Sky Walk Traction Ice Cleat Spikes Crampons (Upgraded)
Budget Option
Energetic Sky 24 Spikes Crampons Ice Cleats Traction Snow Grips
Picture
Our Choice
Title
Cimkiz Crampons Ice Cleats Traction Snow Grips
Picture
Title
Unigear Traction Cleats Ice Snow Grips
Picture
Lightweight Choice
Title
Yaktrax Walk Traction Cleats
Picture
Title
Energetic Sky Walk Traction Ice Cleat Spikes Crampons (Upgraded)
Picture
Budget Option
Title
Energetic Sky 24 Spikes Crampons Ice Cleats Traction Snow Grips
Picture
The Best Ice Cleats for Ice Fishing
You don't want to misstep on ice, especially if you're on a fishing trip and carrying fishing gear. This is why it would be best to consider investing in a pair of cleats for ice fishing. Do you what the best spikes for ice fishing are?
Effective ice cleats offer great traction, durability, and adjustability. For safety, professional ice fishing guides recommend ice cleats for anyone going onto the ice. Ice cleats, or spikes as they are often referred to by fishermen, fit over your existing boots for easy installation.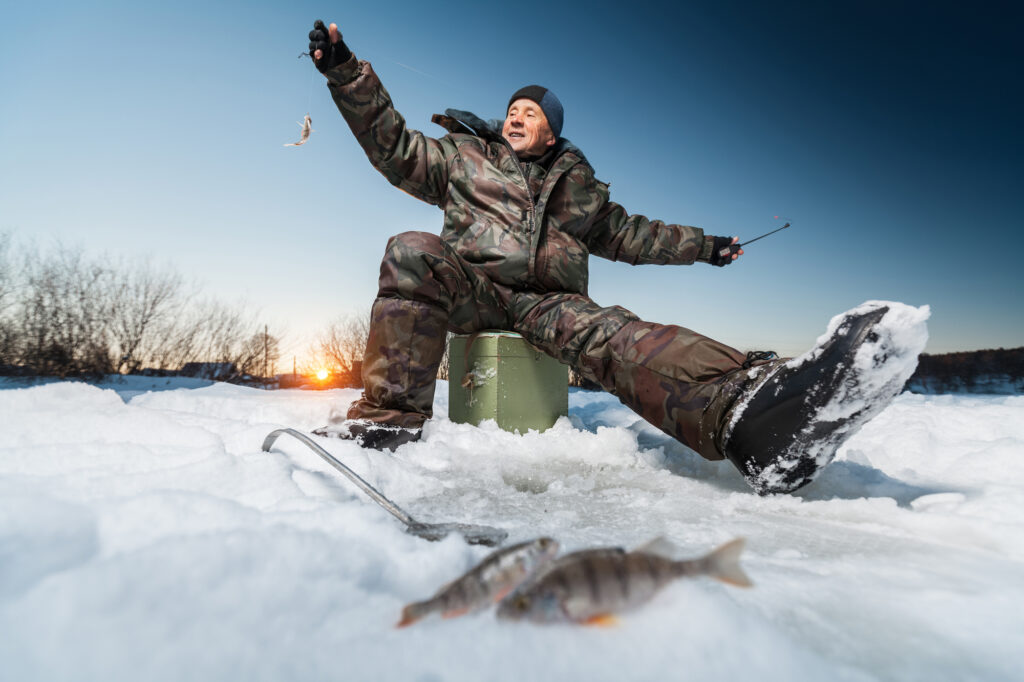 ---
The top choice for ice fishing cleats is the Cimkiz Ice Cleats. They come in six different colors and three sizes, making them versatile for everyone in your family.
These steel spikes can withstand sub-zero temperatures, a must while ice fishing.
One of the best features of the Cimkiz ice cleats is the flexible rubber that fits over your boot. It is made of TPE (thermoplastic elastomer), so it won't slip off or tear. The 19 stainless steel spikes will grip into the ice with ease this coming ice fishing season.
Sale
Crampons Ice Cleats Traction Snow Grips for Boots Shoes Women Men Kids Anti Slip 19 Stainless Steel Spikes Safe Protect for Hiking Fishing Walking Climbing Mountaineering (Black, X-Large)
Stronger and safer spikes: Featured 19 high quality stainless steel spikes per foot and firm chain system, providing excellent traction on a variety of terrain or other worst conditions, keep you safe and injury-free
Durable and stretchy material: Made from thermoplastic elastomer(TPE),5mm thicker than ordinary rubber,till strong performance under -45°C.Easy to put on&off with adjustable strap.Won't tear or snap,ensure long lasting comfort and durability
Widely used and unisex: Suitable for male and female of any age including teenagers,adult,elders. Used on angled terrain,ice roads,icy driveway,mud and wet grass,dangerous sections of trail,etc.Great for trail running,hiking,and ice fishing
Flexible and pocket size: Suitable for various kinds of sports,hiking shoes,boots,mountaineering boots. The strap ensures more comfort and safety.Portable and lightweight,can be put into the carry bag included and will not take up much space
Note:The "L" mark on crampons means size "Large", not meaning "Left". There is no Left or Right difference for crampons products. If you do not know how to wear it, please check the last picture for your reference
---
These highly rated ice cleats are lightweight, affordable, and made from steel coils for gripping the ice. They come in various sizes and offer a flexible heel tab that allows you to easily slip them on and off.
The downside about the Yaktrax cleats is they do not provide as much grip as conventional ice cleats.
Depending upon where you ice fish and the area's conditions, the Yaktrax might be too lightweight of an option.
Yaktrax Walk Traction Cleats for Walking on Snow and Ice (1 Pair), Medium
Lightweight and affordable slip-on traction cleats to reduce the risk of falls when walking on snow or ice to work, school, or even to the mailbox
Made of abrasion-resistant 1.2 mm steel coils with zinc coating to prevent rust; secured to shoes with durable Polyelastomer outer band
Provides 360 degrees of traction on cold surfaces for all-direction stability
Highly elastic outer band with heel tab slips easily slips on and off of shoes; perfect for pedestrians, professionals and the elderly
Available in four sizes: X-Small (W2.5-6/M1-4.5); Small (W6.5-10, M5-8.5); Medium (W10.5-12.5, M9-11); Large (W13-15, M11.5-13.5)
---
Energetic Sky is a reputable brand within the outdoor ice cleats industry. These boots have 24 spikes, making them one of the market's most stable and grip-formed cleats.
The steel spikes on the Energetic Sky 24 Spike Cleats are multidirectional, do not rust, and offer superior grip.
They offer a 12-month guarantee on the cleats, a durable carrying bag, and the simplicity anglers look for in their ice fishing cleats.
24 Spikes Crampons Ice Cleats Traction Snow Grips for Boots Shoes, Anti-Slip Stainless Steel Spikes, for Hiking Fishing Walking Climbing Jogging Mountaineering.
◆The Most Innovative Design:High quality 12 stainless steel spikes,widening the joint area of the steel spikes and the silicone so that the nail is not easy to fall.Strategic placement of spikes ensures equal distribution of weight.Never slip on snow or ice again with your handy traction cleats!
◆Special Silicone:Cover is made by Silicone,not the general TPR rubber,highly elastic and won't tear or snap.5mm thicker than ordinary rubber,tested to remain flexible to -70℉,full-sole coverage with cleats on heel and forefoot maintain traction through your normal stride.Aggressive cleats and treads prevent slips and falls on ice,snow,and wet pavement.
◆Easy Use:Easy to take on and off.Works with all kinds of footwear:sport shoes,boots,casual and dress shoes and so on.Available in multiple sizes for both men and women.
◆Portability:Can be folded into the storage bag attached.Be used conveniently,light weight constructions and easy to carry.Perfect for ice fishing,walking,jogging,snow shoveling,etc.
◆Widely Used:Our crampons suitable for teenagers,adult,elders.Suitable for outdoor walking,ice roads,ice driveway,slippery road and muddy road.Mountain climbing and hiking are not recommended.
---
Honorable Mentions
Unigear Traction Cleats Ice Snow Grips with 18 Spikes for Walking, Jogging, Climbing and Hiking
Lighter and tougher, it helps to deliver unrivaled traction on icy winter trails. The main body of elastomer band is comprised of stretchy Thermoplastic Elastomer (TPE) which is of flexibility, anti-abrasion as well as anti-tearing and could improve longevity for a quick and secure fit on a variety of footwear.
The heavy duty crampons are best in class, with long-lasting soles which are equipped with heat-treated stainless steel cleats that bite into the slickest ice and snow.
Balance Enhanced – feature 18 spikes per foot, with 12 spikes at the forefoot and 6 spikes at the heel. Each wide heel plate with 3 spikes is for secure downhill traction and each spike is 1/2" long. The spikes are made from heat-treated stainless steel for excellent durability and corrosion resistance.
Full-sole coverage with cleats on heel and forefoot is to maintain traction through your natural stride and pursuing your passion for the outdoors. Easy to put on and take off with secure and adjustable straps.
60 Days 100% Satisfaction: If you are not 100% satisfied with this product for any reason, please contact customer service within 60 days, and we will immediately help you to solve the problem.
Sale
Upgraded Version of Walk Traction Ice Cleat Spikes Crampons,True Stainless Steel Spikes and Durable Silicone,Boots for Hiking On Ice & Snow Ground,Mountian.
HIGH QUALITY STAINLESS STEEL SPIKES:Abrasion-resistant 19 multi-directional enhanced stainless steel spikes.Welding chain stronger,with more robust spikes.High Strength STAINLESS STEEL SPIKES provides excellent traction on a variety of icy surfaces.Strategic placement of spikes ensures equal distribution of weight for long-lasting comfort and durability.
MORE SAFE AND DURABL:The link of this crampon use welding chain and more stronger stainless steel chain.This ice traction cleat would give you more confident while walking on the ice or snow.These ice cleats would not rust and would more firm and durable.
REDUCE INJURY:Cover is made by Silicone,not the general TPR rubber,highly elastic and won't tear or snap.Tested to remain flexible to -60degrees F,full-sole coverage with cleats on heel and forefoot maintain traction through your normal stride.Aggressive cleats and treads prevent slips and falls on ice,snow,and wet pavement.
EASY TO WEAR AND CARRY EASILY:Proprietary silicone provides a flexible,lightweight,all-day traction solution.They fit easily and securely over your own shoes or boots and fold small enough to keep in a pack,or in your car.
WIDELY USED:Suitable for both male and female of any age of teenagers,adult,elders.Suitable for Outdoor Ice And Snow,hiking angled terrain,icy roads,ice driveway,dangerous sections of trail (ice covered boulders,woods ice mud,etc.)Great for winter trail running,hiking,and ice fishing.
---
What to Consider When Buying Ice Cleats?
These are some of the factors you should consider before buying a pair:
Gripping power
The gripping power of ice cleats is the most important factor to consider. The ice can become especially slippery. If you fall, it can harm you and your equipment. Ensuring a good grip will take you a long way in terms of safety.
What Boots to Pair Cleats With?
A warm, comfortable pair of boots is one of the most important parts of ice fishing. The Best Ice Fishing Boots – Review the Top 5 Boots on the Market details your options for great ice fishing boots.
Tread pattern
Ice cleats come with a variety of tread styles which can be uniquely useful depending on the terrain. You should consider where you want to go before choosing one style. However, some options can perform reasonably well across various places.
Durability
Retail ice cleats are generally of lower quality and should be worn with caution. You don't want to end up without anything to wear on your feet if one of your shoes loses functionality. Be sure to buy them from an authentic footwear manufacturer to ensure a longer usage span.
Flexibility
Although this may not seem as important, going for long walks in a pair of hard boots can become painful and, eventually, extremely uncomfortable. A pair of flexible ice cleats will ensure that you can easily cover long distances over the ice.