If you spend the colder seasons ice fishing, you probably have considered purchasing a fish finder. The good news is that technology has come so far from what it was.
Nowadays, ice fishing fish finders offer exceptional features such as high-resolution LCD screens, GPS plotting, and all-in-one travel packs that provide an easy solution to help you catch more fish.
Title
Budget Choice
Garmin Small Ice Fishing Kit
Venterior Portable Fish Finder
Our Pick
Lowrance HOOK² Ice Fishing and All-Season Pack
LUCKY Water Depth Fish Finder
Runner Up
Garmin STRIKER Plus 4 Ice Fishing Bundle
Picture
This affordable ice fishing fish finder offers a high-resolution screen and autotuning sonar (ease of use). The pack comes with all the gear and accessories you will need to set it up at home and easily carry it onto the ice. It has two transducers, a battery, a charger, and a carrying case.
This unit has GPS, allowing you to mark waypoints to save your favorite ice fishing locations. It also features sonar, side scan, down scan, and a split screen mode to monitor underwater as you fish. This fish finder by Lowrance offers a very easy-to-use interface with reliability from a top brand in the industry.
The Garmin Striker Plus has many features, including a dual-beam ice fishing transducer. This helps you see where the fish are easier. It also features a great carrying pack, making it easy to bring onto the ice.
The color screen is great and can provide crisp contour mapping of the terrain below you. The unit has GPS functionality so that you can save your best fishing spots. Garmin has an excellent reputation within the fishing community and their Striker Plus ice fishing fish finder doesn't disappoint.
Sale
Honorable Mentions
Venterior Portable Fish Finder Ice Kayak Fishing Gear Depth Finder with LCD Display and Sonar Transducer (Orange)
Shows you what is in the water: water depth, approximate fish location (suits for all sorts of fish), fish size(small/median/big), short & tall weeds, sand & rocks on bottom. Suitable for fishing from a kayak, off the dock, and ice fishing. You can use the fish finder on moving kayak with slowly speed below 5mph. It can be used in fresh water as well as salt/sea water.
Easy to Use: Toss the transducer into water and turn on the display unit, it will show you the water depth and approximate fish depth if fish schools passing by. It has 5 user selectable sensitivity; battery save mode; backlight mode ; fish alarm; unit of measure. Setting can be saved when turned off.
Very portable that you can take it anywhere: It comes with neck strap that allow you to wear it around neck when you are busy on the kayak. And you can easily store the fish finder in your tackle box. The fishfinder is powered by 4 AAA batteries. It lasts 4-5 hours with new batteries in continuous use.
Accurate Depth Reading: The fish finder use sonar to detect water depth and fish location. Sonar Frequency is 200 kHZ. Detectable area is 45 degrees beam angle under the sonar transducer. Detectable depth range is from 3ft/1m to 328ft/100m below the sonar transducer.
Warranty and Brand Support: The Venterior Portable Fish Finder is eligible for a 2-year Warranty provided by the brand support. Any issue of the fish finder after purchase, please don't hesitate to contact our brand support (warranty card comes with product in package), we will response within 24 hours every day online.
Sale
Garmin Small Ice Fishing Kit, 010-12462-10
Rugged, glove-friendly case carries and protects your 4", 5", 6" or 7" striker fishfinder, echomap Chirp or echomap Plus combo
Gt8hw-if ice fishing transducer Features Garmin high wide Chirp traditional sonar with selectable beamwidth (16 to 24 degrees)
Comes with foam Float, grommet, battery, charger, power cable and built-in cable management and storage
LUCKY Water Depth Fish Finders Waterproof Portable Fishing Fish Finder Display Handheld Ice Fishing Finder Sonar Sensor Transducer for Boat Kayak Sea Fishing
Waterproof : The portable fish finder is waterproof in rains. No need to worry the splashes makes the display damaged any more. Even though the portable fish finder dropped into the river or lake, the fish finder would be floating on the water surface. You just need to put the handheld fish finder in open air after fishing to avoid water vapor generated inside display because of the temperature differences.
Water Depth & Fish Location : You can easily get to know the water depth when the sonar transducer fully in the water. If you attached the sonar transducer to the hull your boat or kayak, you will know the water depth distribution of a specific area when the boat or kayak is moving. It will be easier to find a good position for fishing. Meanwhile, you could also know the approximate fish location and fish size by the portable fish finder display.
Stable Sonar Transducer : The sonar transducer of the portable fish finder is working stable and reliable both in freshwater and saltwater. It offers a 45° beam angle underwater in 200Khz which supports maximum 328ft/100m water depth detection. There is a 25ft/7.62m extension cable and an anti-fish bite plastic float comes with the sonar transducer. The portable fish finder is USB rechargeable by a built-in lithium battery.
Data Display : The fish finder displays water depth and temperature on the left top. The measurement unit can be freely changed in FT/M and ℉/℃. Besides water depth and fish location, you can also choose a particular underwater area to watch the size and location of the fishes.
Ideal for Fishing : LUCKY waterproof fish finder is widely applied in ice fishing, kayak fishing, boat fishing and bank fishing. The portable fish finder can be working for 5~6 hours continuously after fully charged. Once the battery save mode is turned on, it could be working even longer than 10 hours.
Things to Consider When Purchasing an Ice Fishing Fish Finder
What is an Ice Fishing Transducer?
The transducer is the "eye" of the fish-finding device. It sends a signal into the water, waits for it to come back, and processes an image depending upon the results. Fishermen use transducers while ice fishing by suspending them in the water through a small hole usually augered out. The best practice is to keep the transducer just below the water's surface for the best readings.
Imaging
The imaging process is how the ice fishing fish finder outputs what the transducer collects onto the display screen. This is where different fish finders begin to differentiate from each other. Ultimately, the best fish finder is the one that can give you the best information in an easily understandable way.
Accessories
Many ice fishing fish finders come in travel packs that include many accessories. The most important are quality cords for charging, a charge, a battery, stands, and plastic containers to keep it all in. The higher quality fish finders provide better accessories.
The Best Ice Fishing Fish Finder Features
The best fish finders for ice fishing give you options when viewing the screen, such as sonar, side scans, down scans, contour mapping, and GPS plotting. When spending money on a fish finder, make sure to purchase one that comes with these features built into it.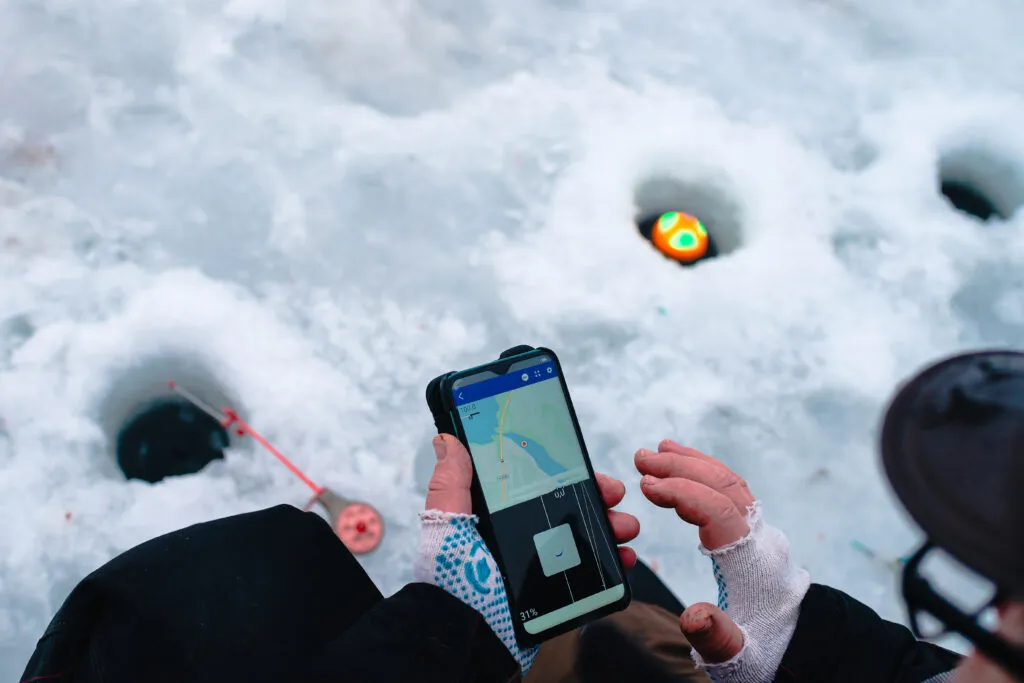 Battery
A quality battery for your fisher finder matters a lot when ice fishing. Once on the ice, many anglers can't charge anything because there's no source of electricity. If that's the case, then long-lasting battery life is very important. Another consideration with fish finder batteries is how well they hold up to charges over time. Often batteries lose their ability to hold a full charge.
Display
We are fortunate to have fish finders with such amazing displays. The LCD is commonplace with ice fishing fish finders, which no longer cost a fortune. When purchasing a fish finder for ice fishing, buy something with at least a 4″ screen.
Accuracy
You want to ensure that the instrument you buy provides accurate readings. It can become demotivating and misleading knowing that your readings could be incorrect.
Ease-of-Use
When buying fish finders, it is best to purchase one that provides simplified readings. Most people get confused when there are too many readings available. There's nothing worse than spending hours going through manuals and calibrations just to start fishing.
Cost Consideration
You shouldn't buy a fish finder worth $2000, the functions are only marginally better. Something between $200-500 is sufficient for most ice fishermen.
Portability
The newer models are almost always portable, which is great. They come in easy-to-carry traveling packs that can be stored away with the rest of your gear during transportation.
Weather Resistance
The elements can become extreme when ice fishing, making it all the more important to have a device that can withstand snow, rain, wind, and the occasional fall on the hard ice.
Usability
One of the most important features of a quality ice fishing fish finder is its useability. A lot of models, including our top two picks, have designed their interface to be easily understandable with pre-built features with a push of a button.