Ice fishing is a popular winter sport, especially in Michigan, where the winters are long and cold.
According to Michigan.gov, almost every fish caught during the summer is available during the winter, some even more frequently than others: particularly walleye.
Walleye is one of the most popular fish to fish for in Michigan. It is sought after for its size, availability, and delicious taste – especially when thrown on the grill and transformed into delicious fillets.
For anglers seeking the best ice fishing for walleye in Michigan, there are several important factors to consider:
Location
Best time and season
Fishing regulations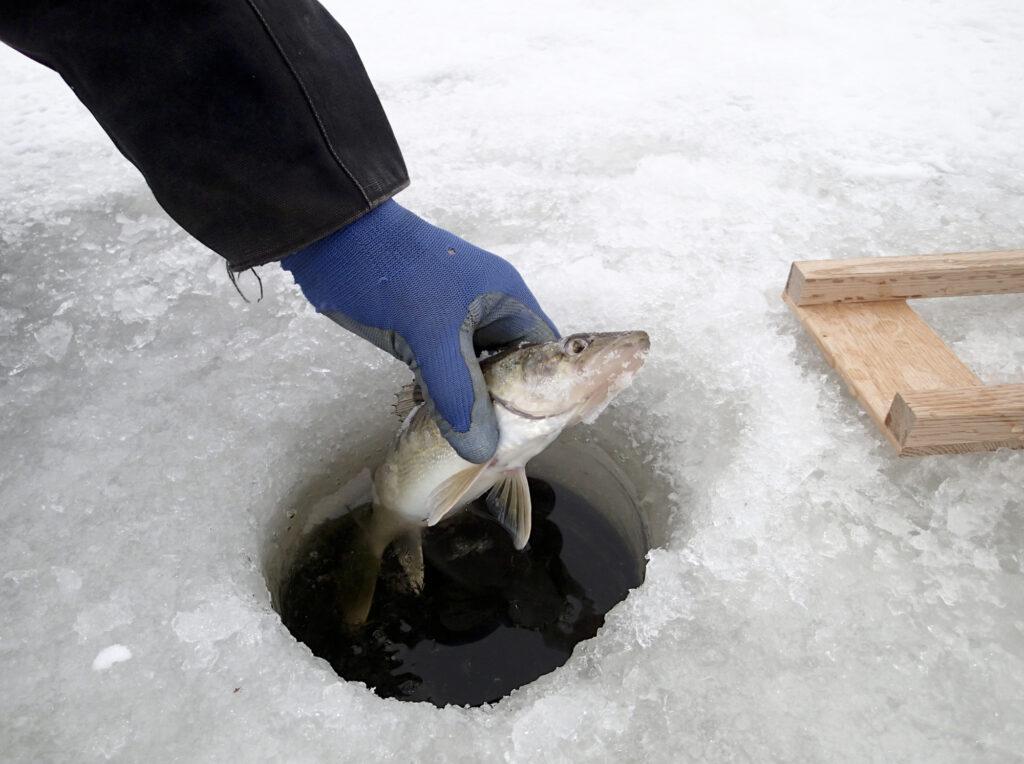 The rest of this article will answer your questions about the best locations for ice fishing for walleye in Michigan, including where the best fishing spots are, the best time and seasons for catching walleye, and the most up-to-date fishing regulations surrounding walleye fishing in the state of Michigan.
Best Locations in Michigan for Walleye Ice Fishing
Michigan has many great areas for ice fishing, but some locations are particularly great for walleye fishing. Anglers often travel from out of state to Michigan for ice fishing, and the locations below are the most popular spots for walleye ice fishing.
Lake Erie – unofficially known as the Walleye Capital of the World, Lake Erie reportedly has more walleye per acre than any other location in the world. No wonder thousands of anglers flock to this great lake every season with hopes of landing a great catch!
Lake of the Woods – the south shore of this wonderful lake is the best place for catching walleye, as the population is denser. Don't pass up the opportunity to fish here for northern pike, saugers, and crappie here as well. 
Lake Winnipeg – the walleyes here are big and plentiful, and it's reportedly not uncommon to catch walleyes measuring over 20 inches in length.
Saginaw Bay, Lake Huron – This popular fishing destination is a great place for catching walleye, and you'll also find plentiful perch and lake trout. Click Saginaw Bay Walleye Ice Fishing [Hotspots & The Best Guides] to learn more.
Best Times and Seasons for Catching Walleye
Season
There may not seem to be much difference between late autumn, mid-winter, and late winter, but the fish know better.
Early season
According to FishingBooker.com, the best season for catching walleye is during the first two weeks of ice, usually in December. The walleye are close to the surface and easier to catch in mud flats and shallow river banks. Walleye are most aggressive at the beginning of the season, making them easier to bait. 
Mid-season
The later into the season you go, especially during mid-winter, walleye seek deeper temperatures and are more difficult to catch. You'll need to go further out onto the ice to catch them.
If you aim to fish for walleye during mid-winter, you'll have to visit offshore structures such as rock piles and reefs, where walleye hang around.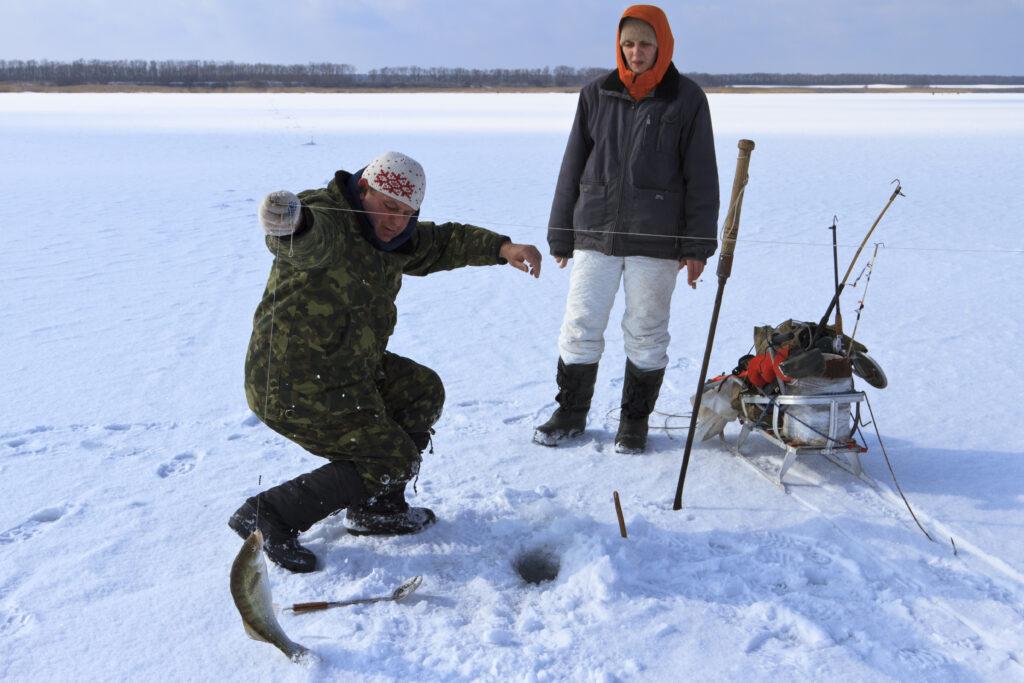 Late season
As the temperatures slowly creep upward, walleye will be drawn from the deep waters and back toward the shallower banks. Since walleye spawn in shallow waters beginning in late March to early April, it pays to know where the walleye are heading.
Time
While it isn't unheard of to catch walleye during the daytime, they are most active at night – particularly around sunset and sunrise. Can You Ice Fish At Night? [Follow These Professional Tips] gives insight into how to stay longer on the ice and stay overnight. Walleye are nocturnal, which is why a lot of fishermen decide to stay overnight.
The 90-minute rule for catching walleye: the 90 minutes before sunrise and the 90 minutes after sunset are the best times to catch them.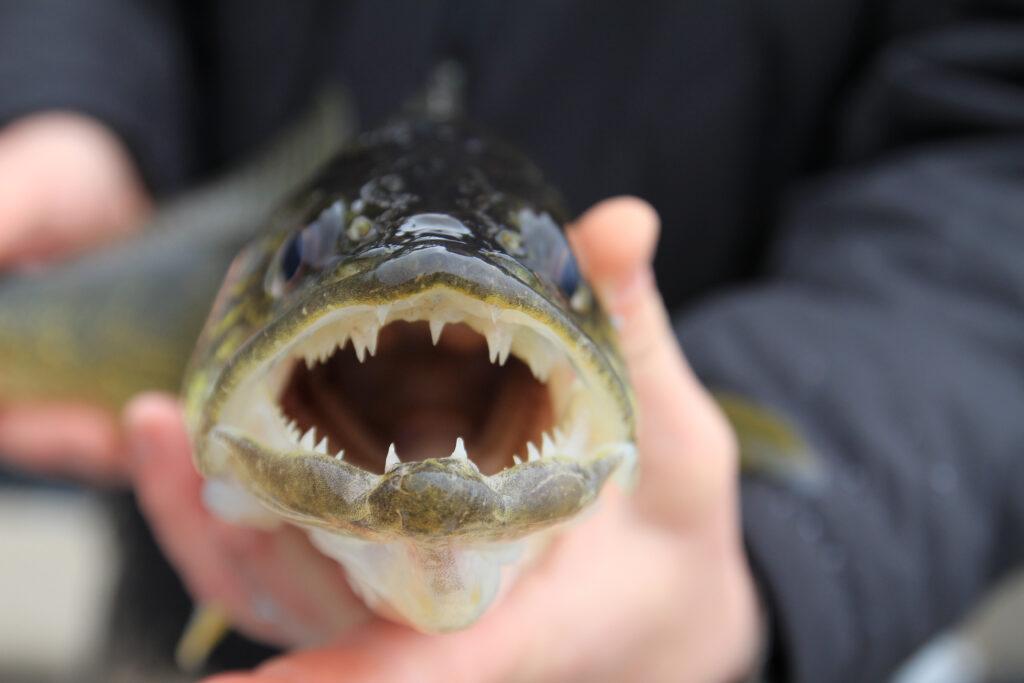 Depth
The depth of walleye while ice fishing varies. They follow baitfish, which go into deeper water as the winter season gets colder. What Depth Should I Ice Fish for Walleye? gives more info.
Michigan Walleye Fishing Regulations
According to the 2022 Michigan Fishing Guide on Michigan.gov, the maximum number of walleye that anglers can possess is 5, with the minimum size of each fish being 15 inches.
In 2022, the Upper Peninsula Great Lakes, inland waters, and St. Mary's River are open for walleye fishing from May 15 – March 15. The lower peninsula inland waters are open for walleye fishing from the last Saturday in April through March 15.
Locations open all year for walleye fishing are the Lower Peninsula Great Lakes, lower St. Claire Lake, St. Claire River, and Detroit River.