Lake Erie is one of the best places in the world to fish for walleye.
The experience of a lake Erie walleye ice fishing charter is like no other, and you're almost guaranteed to catch a walleye.
And when you finally get one, you'll have the time of your life reeling it in. So if you're looking for an amazing fishing experience, be sure to book a charter on Lake Erie. You won't regret it.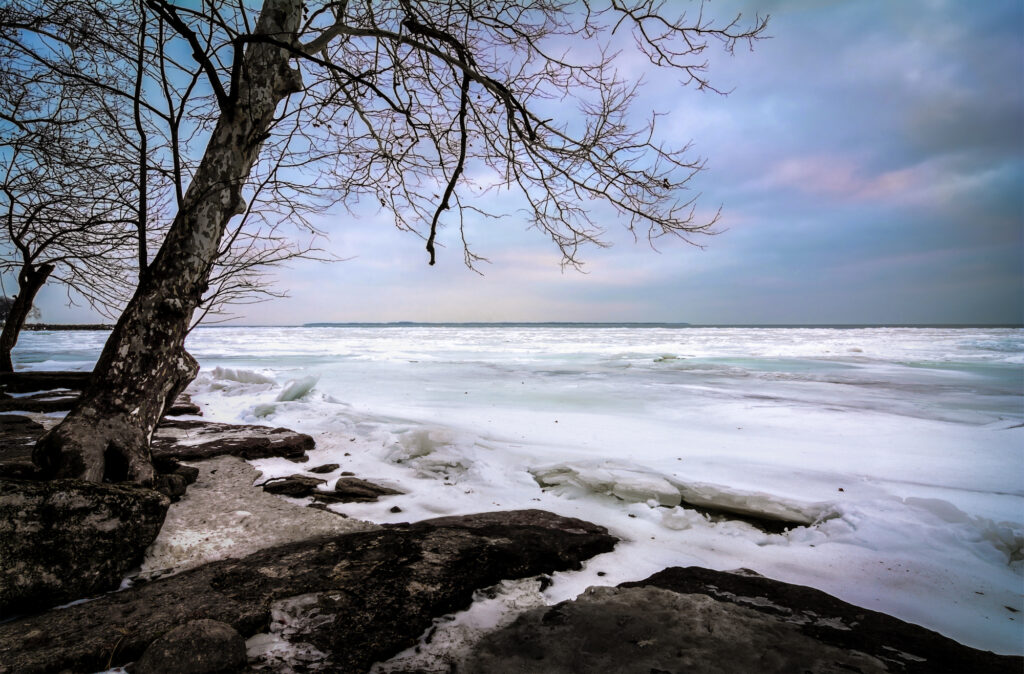 The Top 3 Lake Erie Walleye Ice Fishing Guides

Captain Pat Winke has been fishing out of Marblehead, Ohio, for over 30 years. As an experienced walleye fisherman, both in the winter and summer, he can put you on the fish!
They depart from five locations depending on how the fish are biting: Catawba Island, Marblehead, Port Clinton, Camp Perry, and Crane Creek.
They offer three-man shanties for those who want to experience ice fishing in a shelter. On top of that, they provide all the gear, such as rods, reels, lures, and bait. Fish finders and GPS are also included, which help get you to the known walleye hotspots.
Their rates vary depending on the time of year and when you book your reservation. Their website is here, and Captain Pat Winke's cell phone number is 419-250-2272.
---

Out of Port Clinton, Ohio, Char Tom Lake Erie Sportfishing Charter is a great option for catching walleye on the ice this upcoming season.
The owner, Charles Crum, is a full-time U.S. Coast Guard licensed captain with decades of experience.
Their ice fishing package includes all the necessary gear and portable heated ice shanties. Their website is here, and to get in touch with them, call (614) 419-8265.
---

Captain Nathan Edmonds is a second-generation Lake Erie fisherman.
They offer heated shanties, rod and reel combos, all the bait you need, and transportation on and off the ice.
The Walleye Wizard Fishing Charters website is here, and their phone number is 765-499-2208.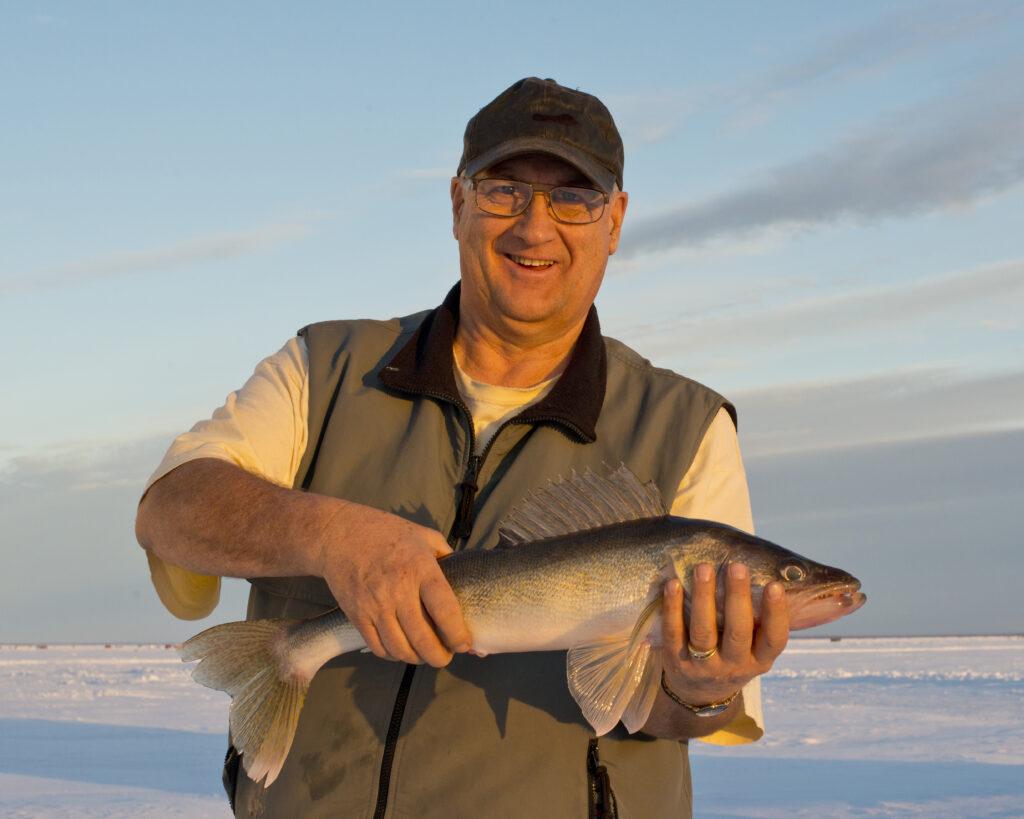 ---
How to Pick a Lake Erie Walleye Ice Fishing Charter
Step 1: Pick a State to Ice Fish
The easiest way to search for a quality Lake Erie Walleye guide is to search online.
To start, think about which state you want to fish out of because Lake Erie is a huge body of water bordered by New York, Michigan, Pennsylvania, and Ohio.
Each state has different requirements and fishing license fees.
New York
When fishing Lake Erie from New York, you should visit their permitting website. Currently, their out-of-state license fee is $10 for one day and $28 for seven days. This will allow you to ice fish on the New York side of Lake Erie during the winter while ice fishing for walleye.
Michigan
Michigan's fishing license website states that a "daily all species nonresident license" is $10 per day. You can also opt for the annual non-resident fishing license for $76.
Pennsylvania
Known for its great outdoor parks and wildlife, Pennsylvania offers a Lake Erie fishing permit for $9.97. Some combine this fishing license with the non-resident annual license for an additional $52.97.
Ohio
Ohio offers non-residents a one-day license for $14, and a three-day option at $25. If you need something longer, their annual fishing license for non-residents is $37.44.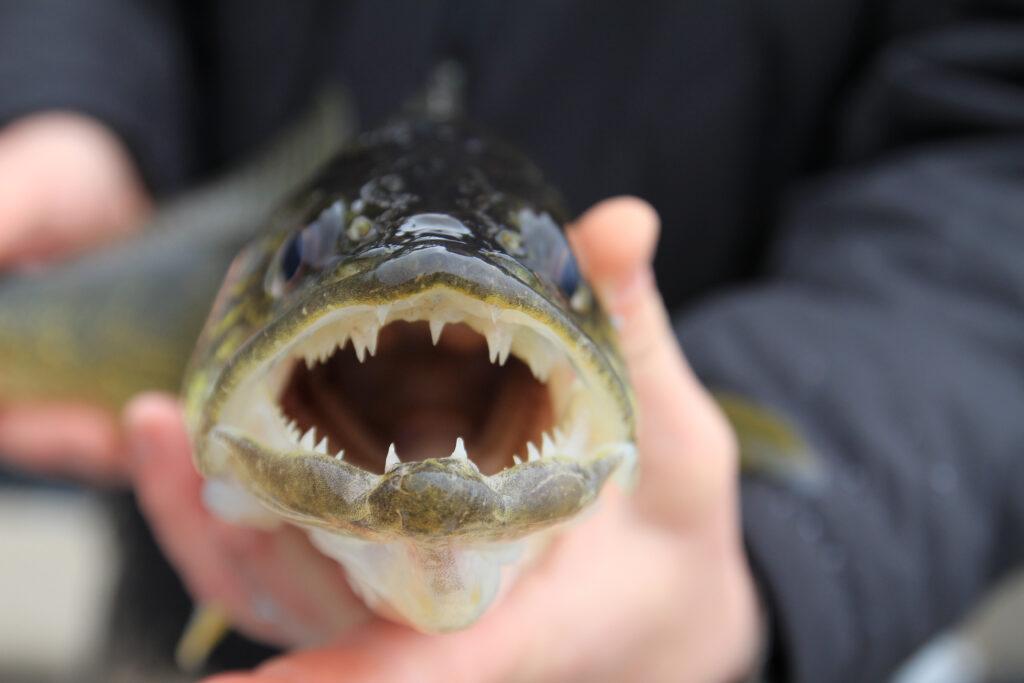 Step 2: Selecting a Ice Fishing Guide
A quick Google search will display a handful of walleye ice fishing guides for Lake Erie, but how do you choose one that is perfect for your unique situation?
Read Website/Social Media
To select a great guide, make sure to do a thorough check on their website first. This should give you all the important information about their outfit. From previous successes last season to customer reviews, to the places they fish, a guides website should outline it all.
After stopping by their website, check if they have social media platforms like Youtube or Facebook. Youtube is great to get a feel for their personality, their knowledge, and quality of gear. Facebook helps with reviews from previous clients.
Give them a Call
Once you've decided on a few potential ice fishing guides, give them a call. This is your opportunity to ask questions.
After the call, ask yourself these questions to gauge whether or not it's a good fit:
Was the guide kind?
Did they feel rushed, or did they give me the time of day?
Did they seem knowledgeable?
Were they apathetic or were they excited?
Do yourself a favor and take your time with this process. After all, you are spending hundreds of dollars, no doubt, when choosing a quality ice fishing guide who will hopefully be able to increase your chances of catching walleye.
Book Your Dates & Reserve Accommodations
Once you've decided who to hire for your ice fishing guide, book their services for the specific dates you want.
During this conversation, it's great to ask them where the best places to stay in the region are.
A quality guide will know the best motels, hotels, and other places to stay. Some ice fishing guides even have their own accommodations to offer their clients for an additional price.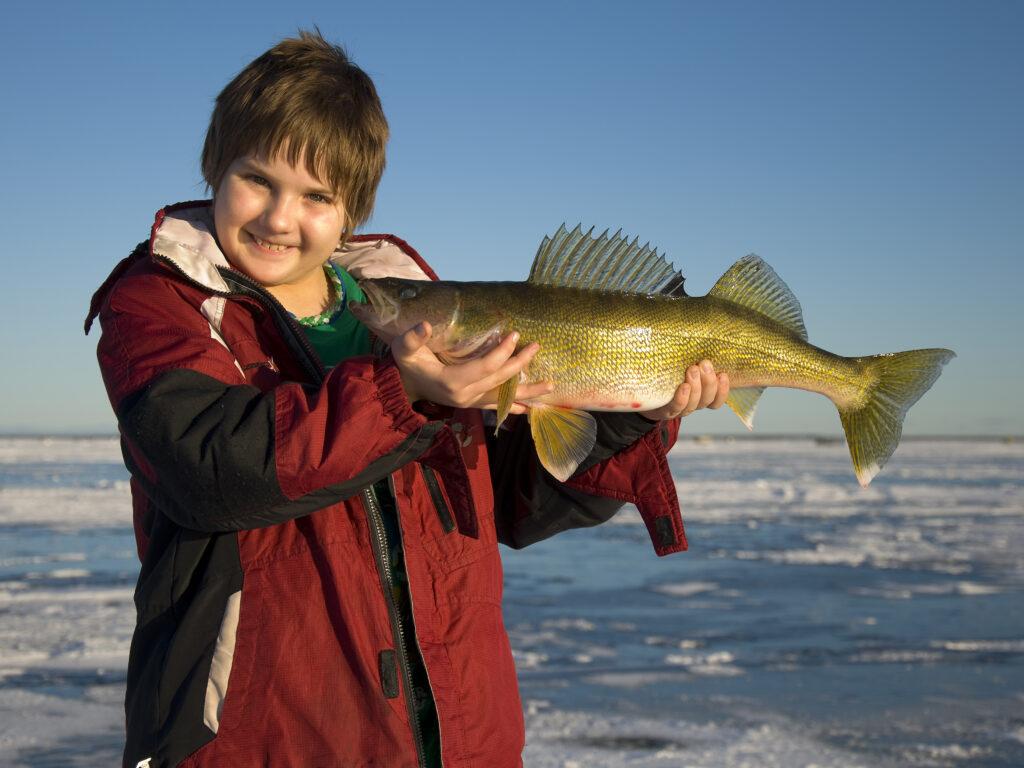 What to Expect While Ice Fishing on Lake Erie
Expect it to be cold. Really cold.
One of the most forgotten pieces of gear is a good hat. Ice fishermen often use balaclava which wrap around the head, ears, nose, and mouth. If there's a wind chill you'll be very happy you have one.
IceKap Balaclava [Perfect Ice Fishing Solution]
✨Key Features–Soft, breathable, moisture wicking material ski mask–Fleece lined for warmth – Comfortable 4-way stretch material – One size fits most – Helmet compatible design.
🌳BREATHABLE FABRIC BALACLAVA– We use breathable, moisture wicking polyester-elastane material to draw out moisture and dry quickly to help keep you warm. The soft, comfortable and light-weight material also delivers maximum breathability during strenuous activities.
🎉WARM & COMFORTABLE – The Extremus Ski Mask is fleece lined inside with a long-contoured neckline to keep you warm in the most extreme conditions. This 4-way stretch fabric offers a snug, comfortable fit that will not restrict movement during outdoor activities.
🍃VERSATILITY DESIGN – One size fits all! This design allows you to wear the ski face mask balaclava multiple ways for the ultimate in versatility. Wear the IceKap as a full head covering for protection from the snow and wind, or as a neck gaiter to cover only your neck. This contoured design is also helmet compatible, perfect for Skiing, Snow Boarding, Snowmobiling ,Hunting, or Motorcycling.
🚴‍♀️PRYM1 COLORS Full Face Mask – "BE THE PREDATOR" with American born Prym1. KastKing is proud to partner with Stacie Walker a wildlife artist and founder of Prym1. Stay protected from the elements in style with the Extremus IceKap Balaclava.
Arrival
Once you arrive, your captain will help you get all the necessary gear. This includes an auger to drill through the ice, a rod, reel, and bait. Once you're all set up, your captain will find a good spot to drop anchor. Then it's time to start fishing!
Usually, you will meet with the guide at a specified time and place to begin your walleye adventure. Make sure to be on time and proper dressed.
Fishing
Depending on the time of year, you can expect to catch walleye, perch, or other fish that call Lake Erie home. Your captain will give you tips on the best way to fish to increase your chances of success.
After the day is done, or whenever you've decided to be finished fishing for the day, your captain will help you pack up all your gear and head back to shore.
Some ice fishing guides provide shelter so that you can fish throughout the night. Make sure to specify if this is something you are interested in.
Ice fishing is a great way to spend a day out on the lake. With a guide, you can relax and enjoy the experience without having to worry about logistics. So whether you're an experienced angler or just looking to try something new, a charter on Lake Erie is sure to be a memorable experience.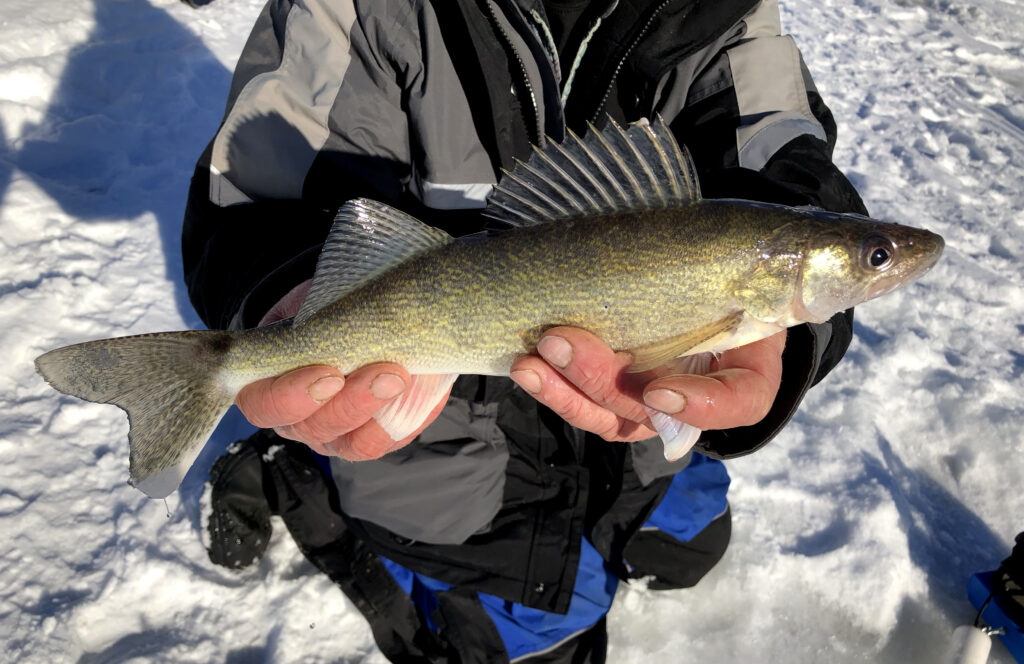 How to Catch Walleye on Ice 
One of the most important things to remember when catching walleye on ice is to use the proper bait. Live bait, like minnows or worms, are always a good choice. You'll also want to use lures that imitate the movement of live bait. Spoons and jigs are both good options.
What is the Best Bait for Ice Fishing Walleye? is a great article to dig deeper into how to catch walleye. Remember, don't overthink it. Your guide will be able to help you with the proper lures and bait.
While fishing, keep an eye on your line, as you'll want to set the hook as soon as you feel a bite. With a little patience and practice, you'll catch walleye on ice in no time!
Lake Erie Walleye Ice Fishing Charters Tips for First-Timers 
Gear to Bring
Warm clothing (wool and layers are good)
Hat and/or baklava
Quality boots (waterproof is a must)
Two pairs of gloves
Sunglasses (polarized)
Ice fishing can be a great way to enjoy winter and catch walleye. Pike, white fish, perch, bluegill, and other fish are all available to catch during the winter season on Lake Erie.
Tips and Other Considerations
1. Dress for success: Be sure to dress warmly, in layers if possible. You'll also want to wear boots that keep your feet dry and warm. Consider bringing along hand and foot warmers, too. The Best Ice Fishing Boots – Review the Top 5 Boots on the Market
2. Bring the right gear: In addition to your clothing, you should bring an ice fishing rod and reel, bait, and a bucket or small cooler. You may also want to bring along a chair for comfort. If wondering if the guide will provide a specific item, just call and ask ahead of time.
3. Choose the right ice fishing guide: When choosing a fishing guide, make sure to do your due diligence. Ask questions, lots of them! Make sure you get along with your guide, that your personalities do well together, and that they seem knowledgable. Also, check Google reviews and other platforms such as Facebook.
Fish during prime times: For walleye, the best times to fish are early morning and late evening. The early morning bite is usually the most active, so if you can get out on the lake early, you're more likely to succeed. (most of this will be pre-determined by your hired fishing guide).
Following these tips can make your first ice fishing trip a success. With a little practice, you'll be catching fish in no time!